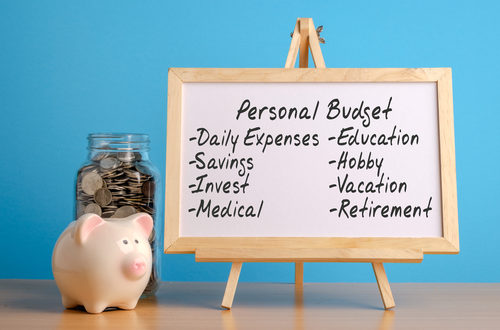 How to Create a Personal Budget: A Guide for Beginners
In the world of online banking, it becomes all too easy to be lax with your finances. For many, checking their account balances on a banking app is the extent of their financial monitoring. But in doing this, spending tends to go into autopilot, and the result is living a check to check lifestyle. Without having a budget in place, your finances have more control over you than you do over them.
First step in creating a budget is deciding if you want to go with a good ol' fashioned document, or take a more modern, technological approach to budgeting. Either way, you need to choose something that will keep you accountable and in control. It will be the central hub of all of your financial information. You will list expenses, allocate your money, and track your spending. It will be your holy grail of financial oversight, and you will learn to love it!
For the more standard form of budgeting, you'll need to begin by creating some form of document or spreadsheet. You can create a simple spreadsheet or you can find a standard or customizable template online (there are hundreds).
If you're opting to take the more digital approach, you can begin by downloading a budgeting app onto your smartphone. One of the cool things about today's budgeting apps is that they often sync to your bank account, making tracking your spending effortless. While this is a time-saver, it does get rid of some of the much-needed "spending realization" that comes with manually tracking it. Mint and Pocketgaurd are two highly rated budgeting apps/websites that sync up to your bank account and allow you to create a custom budget. Want to go above and beyond? Download a budgeting app such as Acorns, which automatically rounds up your purchases, and invests the change for you.
Once you've established your document, or alternative form of tracking, you'll want figure your net income. This is your income sans taxes, social security, 401K, and any other deductions your paycheck faces. Basically, the exact amount of money you're bringing home when all is said and done.
Now, plug in your recurring expenses. Start with your fixed expenses; these are things like car payments, rent, insurance, utilities, child care, phone, etc. These are set, crucial bills that are unlikely to change much. Once your fixed expenses are all listed and accounted for, plug in your variable expenses. These are also recurring, but tend to vary from month-to-month (groceries, gas, Target runs, activities, entertainment). This group is also where you can typically find room to cut down. Take a glance over a few of your recent bank statements and pay attention to the itemized categories it breaks down for you. You'll most likely find that you're spending a bit too carelessly in a category that you didn't realize.
From here, set your sub-budgets, as we'll call them, for your different categories of spending. Try to be frugal, but be reasonable with the goals you're setting, too. While we'd like to say we'll only spend spend $15/week on gas, the likelihood of doing that is slim. Set rules for yourself, but stay as realistic as possible, because if not, you'll derail your entire budget and be less likely to abide by it from that point forward. Think along the lines of deciding not to exceed $200/month in going out to eat, or only spending $30/ month on coffee.
Next, and most importantly- track. Track all of your spending, no matter how small. All too often we think, "oh, it's just a few bucks" only to not realize how much it actually adds up. By consistently tracking and deducting everything, your account balance will no longer be a surprise. Additionally, you'll love how organized it will keep you. You'll know bills have been paid, when they were paid, and how much room you still have left to do fun things!
After a few months, you can assess and adjust your budget to best suit your needs. Figure out what your long-term financial goals are, and work it into your monthly budget. Maybe you want to save $200/month. If so, you'll want to add it to your expense list and scale back other categories accordingly.
You'll spend more wisely and save money by creating a budget, but ultimately, the peace of mind and financial discipline that budgeting will bring is, well, priceless.